Five Shots of Something
I
WE workshopped the first five pages of all our scripts for drama class under Glenn Mas. My one-act play, tentatively entitled "Lies and Loss, Finding Them," took the life out of the room. As most submitted witty, dialogue-driven comedies, I submitted a dreary, introspective piece which was monologue-heavy.
True to my intent, listeners to the reading of my script appeared to flirt with depression. A classmate and a friend—one who wrote a commendable comedy set in Ireland—wasn't too drawn to my piece and said "I think you were trying to be Palanca-ish again here."
In workshops, people can critique and bash my work and what's written on the page—that's fair game. And I'm not sensitive to that stuff. But I couldn't help but leave with a sour taste in my mouth after the "trying to be Palanca-ish" comment. That's somewhat an attack on me as oppose to my script, isn't it?
II
ATE
Geraldine is a former teacher—had once taught biology and chemistry in the University of the East—and still spends a few nights a week tutoring students as far as the Cubao area. She attended high school in Marikina and has a college degree from a nearby polytechnic university. She now wakes up early to get to her stall in the Marikina Public Market before 5AM. She leaves at 9PM but gets home later on those nights she commutes to a tutee's house.
I asked
Ate
Geraldine why she stopped teaching. Her answer treaded on the vague, the generic. The usual stories of family issues are tossed about. I sensed that there was more to it but I didn't want to pry.
Labor trials, I realized, have with it different layers of the concept "laborious." The work could be hard, I suppose, given a busy day. But during my first day of ALTP (Alternative Labor Trials Program), it was the interpersonal dimension that proved to be somewhat laborious.
III
TEXT message says that a "rebel issue" of the
Philippine Collegian
was released. I'm in the library going through my philosophy notes. I immediately forward the message to my editor, then leave to start working on the update.
The next day, the news breaks on the
Inquirer
. I'm at the Fine Arts Department conducting an interview by phone with a lawyer in Makati about legal ramifications.
I'm in the car after dropping off
Lola
. Copies of the November issue are in the backseat. I'm exchanging texts with the lawyer for clarification. My editor is also texting me as she's finalizing the second of two parts of the article about the
Collegian
that we're co-writing.
The next day classes are canceled. Our press is postponed until next week. More time to work on the article. The writing continues. News never stops.
IV
IT was an anti-climactic typhoon; the prolonged weekend has been a dry one. There was much hype about this typhoon. I guess we're all still experiencing a bit of the Milenyo hangover.
I turn on the TV, read the papers. I swallow my previous sentiments. It's as if a giant bowling bowl had rolled across Bicol. It was anti-climactic for us in Metro Manila. Other places, another story.
V
GIGO'S been acting (and blogging) in a rather melodramatic tone over the past few months. He's been an easy target of jokes as he goes about seemingly fishing for sympathy.
Gigo texted on Saturday. He's father had passed away. I remember him mentioning his father undergoing emergency bypass surgery a few months ago. Maybe we've underestimated the weight on Gigo's shoulders all this time.
…………
MV recommends…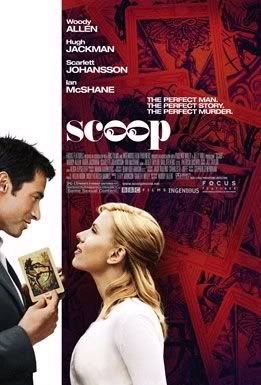 Woody Allen – clever and witty scriptwriting at its best.
Scarlett Johansson – in this role, she proves that cute, quirky intellects with glasses can still exude sex appeal.

Shameless Plugs…

OUT NOW: The November issue of
KATIPUNAN
—my first as Editorial Assistant—featuring the first of a two-part piece I co-wrote about the
Collegian
stand-off, as well as a report on the prostitution industry in KTV and videoke bars, an investigation of Ateneo's ranking of 484 amongst top universities in the world, a feature on Guimaras' long road back, and a look into the world of gambling among students.

ALSO: Posted a story I wrote a year ago on my FictionPress site (see links) entitled, "Coping."